You and your significant other are tying the knot – CONGRATULATIONS! Probably you are already familiar with the exiting, beautiful but sometimes a bit stressful period of wedding planning. You have to think about a lot of important things for the Big Day and it's easy to forget the little details, such as wedding gifts for your guests. As a person who truly loves travelling this time I want to give you some wedding favor ideas for travel-themed wedding.
Wedding favor ideas that are practical
Gifts that can actually be used during or after the wedding are our personal favourites (and believe us, your guests will appreciate something practical over yet another keepsake that will end up collecting dust on a shelf). Travel related weddings are a good opportunity to give something that your guest could use for their own future travels. Look for something that reminds your guests about your favourite destination as a couple, the place where you met or travelled for the first time or maybe the country that the wedding is taking place in if you are having a destination wedding.
1. Our own handmade ceramic tile coasters. These coasters are inspired by different places of the world – Azulejo collection is all about the beauty of Portuguese traditional tiles – azulejos. This is a great wedding favor for a destination wedding in Portugal, or if you have a special bond with this beautiful country.
Copenhagen collection is more monochromatic and can serve as a nice additional detail on an elegant black and white table setting.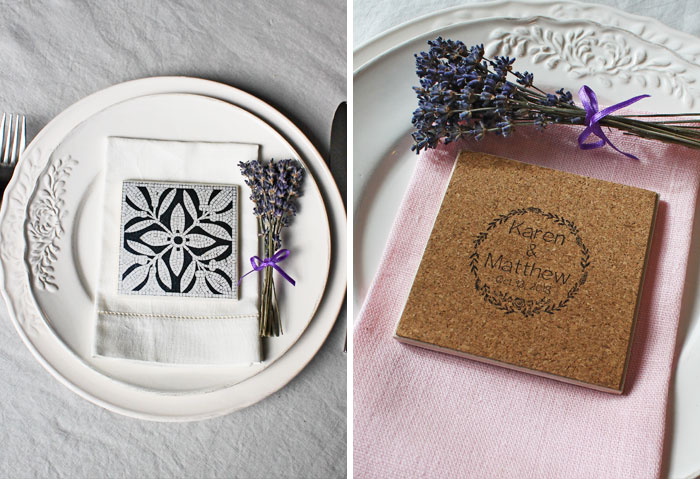 Coasters are a great idea for wedding favors as they not only look beautiful on a table but also can be used in everyday life and remind your loved ones about the beautiful couple that you are every time they drink their morning coffee.
2. Luggage tags as wedding favors is another great idea how to make your gifts useful so that they don't end up being just a waste of money. Etsy shop LetterandLeather offers 14 different colours to choose from and they also can customize the text on the tags so that they have that special personal touch.
3.
These travel wedding lollipops are a fun way to show your guests how big of adventurers you two are by customizing them with a map of your wedding destination or any other place that is meaningful in your love story. "These totally customized wedding lollipops make the most perfect
wedding favor
for even the most elegant wedding!" the makers of these fun looking lollies write in their
Etsy shop
. They have a bunch of different flavours including almond, cotton candy and even champagne!
4.
One more cute way to incorporate food in your
wedding gifts
is by putting tiny sweets in the little luggage-shaped boxes. This is an inexpensive yet fun way to thank your guests for coming to your celebration and also preserve the travel wedding theme even in the smallest of the details. We found these two cute examples of boxes – a vintage one from
TaaraBazzar
and a more modern rolling suitcase from
KawaiiLaundry
. Isn't it just so so cute, huh? 🙂
Eco-friendly wedding favors
5.
With the environmental movement getting stronger every day, it is no surprise that more and more couples are thinking how to make their wedding day not only the happiest day of their lives but also make it as eco-friendly as possible. Usable or edible
favors
are a good way to create less waste but there is one way of gifting that doesn't create any trash whatsoever and it's called seed paper. You can find it in many shapes and colours and it gives your guests an opportunity to plant something beautiful in their gardens and literally watch your love grow!
This shop
has a great variety of favors made of seed paper and they are also great if you are on a budget. A win-win for you and for mother nature!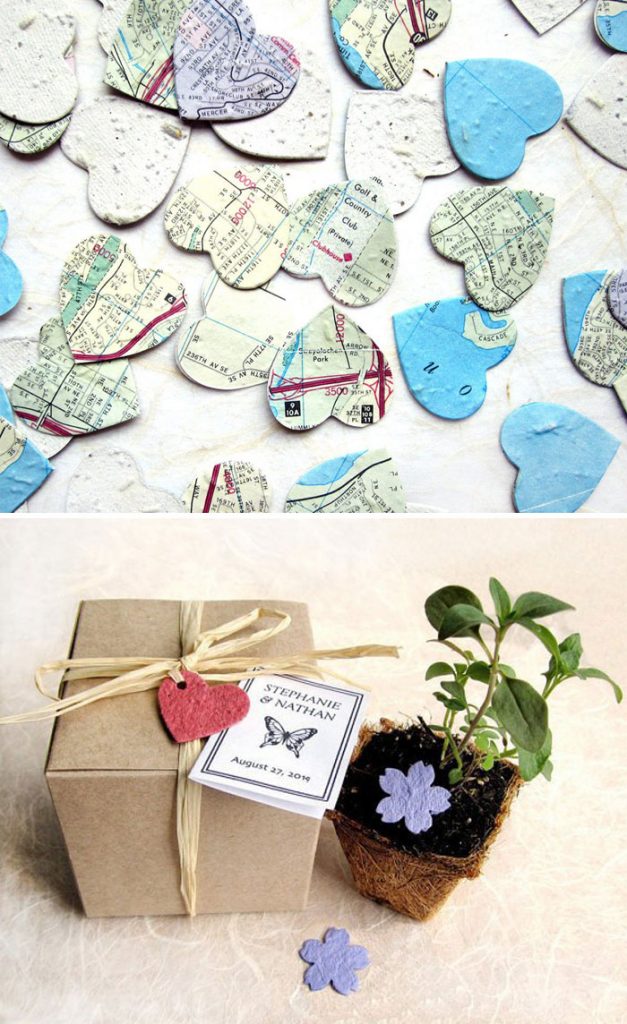 Watch the video down below for other great travel-themed wedding ideas – from brides heels to table centrepieces. 
Are you planning a travel-themed wedding? Do you know any cute wedding favor ideas that we didn't mention here? Share your ideas in comments below – we would really lie to know what you are preparing for your guests!